Sunday, June 8, 4:00pm
Annual Memorial Planting Service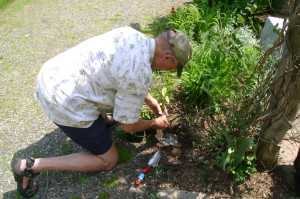 The 17th  annual Memorial Planting Service sponsored by Brattleboro Area Hospice will be June 8th , 4:00 pm (new time this year) at the Brattleboro Area Hospice Memorial Garden, Living Memorial Park,  Guilford Street in Brattleboro.
Please join as we gather to plant flowers and perennials, paint memorial messages on stones to be placed in the garden, and listen to beautiful music, all to honor and remember loved ones who have died.  Everyone is invited, so encourage family members and friends to come with you! This service can be an especially meaningful experience for children.
Please wear clothing suitable to the weather.  A few chairs will be available for those who need them, otherwise, bring a blanket to sit on.  Afterwards we'll enjoy light refreshments.  The service will be held even if there's light rain.  If it's raining heavily we'll postpone till Tuesday, June 10th at 5:00 pm.  If you're in doubt about whether the service is taking place because of rain call the hospice office starting at 2:00 pm on June 8th at (802) 257-0775 and press "4" for a special message.  For all other questions about the service call (802) 257-0775 and speak to Joyce Drew, ext. 105.