Sunday, June 4, 4:00 pm
Memorial Planting Service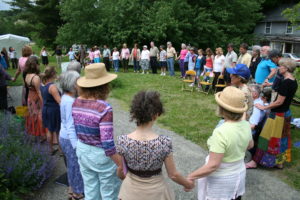 Please join us as we gather for our nineteenth annual Memorial Planting Service on June 4. We'll plant flowers and perennials, create memorial messages on stones and place them in the garden, and listen to beautiful music, all to honor and remember loved ones who have died.  Everyone is invited, so encourage family members and friends to come with you! This event can be an especially meaningful experience for children.  The simple service will include a responsive reading, singing by the Hallowell singers, and Lerna playing hammered dulcimer.
The event will take place at the Hospice Memorial Garden located at Living Memorial Park in Brattleboro.  The garden is on Guilford Street, on the hillside adjacent to the road, directly across from #150 Guilford St. Plants will be provided.  If you want to plant something that you choose to bring, please contact our gardener Hilary Farquhar at (802) 689-2125 or hmacf@myfairpoint.net so that we can determine if it will fit with the garden layout.
As we plant we'll read the names of those who have died in the past year.  If you would like us to include a name not already on our hospice list, please call our office at (802) 257-0775 by May 29th to let us know.  Likewise, if you do not want the name of your family member who received services from Brattleboro Area Hospice read, please call us by May 29.
Please wear clothing suitable to the weather.  A few chairs will be available for those who need them.  Feel free to bring a blanket to sit on.  Afterwards we'll enjoy light refreshments.  The service will be held even if there's light rain.  If it's raining heavily we'll postpone till Tuesday, June 6th at 5:00 pm.  If you're in doubt about whether the service is taking place because of rain call the hospice office at 257-0775 starting at 2:00 pm on June 4th and press "4" for a special message.